Affordable Search Engine Optimization & Marketing, No Contracts, Pay as You Go.







Tampa Bay's
Source for
Affordable SEO
PLUS Marketing

Search Engine Optimization &
Internet Marketing
Website Updates for Tampa & Florida Small Business
Tampa and Florida businesses need website updates and maintenance services. The problem is, is that many can't afford to commit to the terms offered by other Tampa web design firms. We offer internet marketing, SEO services and website maintenance and update services as needed or "on-the-fly." Whether you used our web design services or not, once your website is launched we can provide you with affordable website maintenance services.

Our regular website maintenance services can be combined with our search engine optimization services. This will keep your site fresh, allow for the changes you need, while saving you money.
Types of Website Updates
Changes to products, services and pricing
Event updates
Photos, graphics and coupons or special offers
Content or copywriting edits to improve relevance
Adding new pages or items to e-commerce sites
Adding or editing company contacts
Website makeovers for browser or mobile compatibility
WordPress website maintenance, SEO and improvements
WordPress Instruction
Low hourly rates and minimum.
Local Tampa Web Design Firm.
No contracts, same time zone
No obligation necessary.
Can be combined with SEO Services.
No Long-Term Contracts Required
Quick Results
Ethical SEO Techniques
Link Building
Local Tampa & Florida SEO Firm
Social Media Marketing & Mgt.
Blogging & Guest Blogging
Video Marketing
Copywriting & Copyediting
Analytics & Reporting
Google Authorship & Google+
Additional Marketing Services to
Increase Traffic & Revenue
Work with You to Achieve Results








Website Updates for Custom Sites, Wordpress, Joomla or E-commerce Websites

Provide low cost website updates and maintenance.
Combine our Search Engine Optimization Services with basic website update services for a better ROI
Update or maintain events, coupons, photos, special offers, menus
Pay as You Go OR Discounts on Quarterly Commitments

Get website maintenance and web update services you need them to keep your content current for users.
Add new pages to your website that will enhance user engagement.
Make most any type of update to your Tampa Bay or Florida website.
Not Sure If Your Site Needs Updating or Redesigned? We can Help You Make that Decision.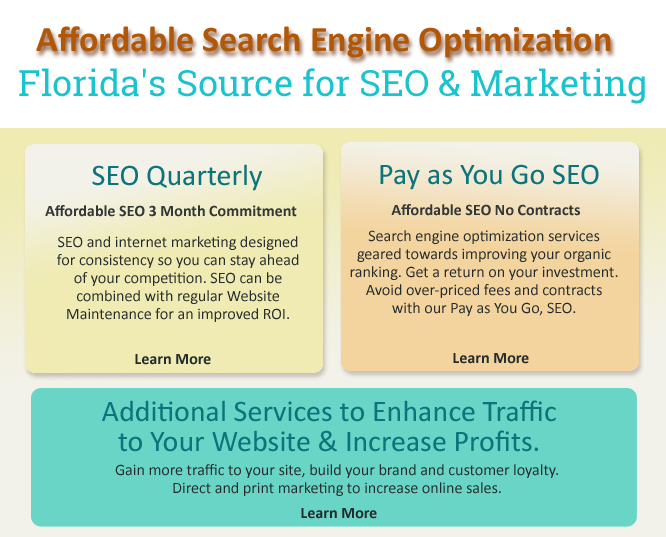 Search Engine Optimization

- Time consuming process of marketing your website to obtain a higher ranking on the search engines with Google, Bing & Yahoo being the key players.



Website Marketing

- Marketing your website should not be limited to search engine optimization. Social media marketing to drive traffic and show relevance is a must, but traditional marketing is also called for. We can do that and you make just one call.