Affordable Search Engine Optimization & Marketing, No Contracts, Pay as You Go.







Tampa Bay's
Source for
Affordable SEO
PLUS Marketing

Search Engine Optimization &
Internet Marketing
Conversions, Increased Revenues
We define results differently than most SEO and marketing firms. Sure, we aim to improve organic ranking, increase website traffic and even cross market to build networks. After all of those SEO goals are met however, what we want to know is if the phone is ringing?

Many small business owners don't depend on typical online sales, and the only real way to track conversions is to ask if the phone is ringing. If you're an attorney, physician, lawn care or pest control service or any other service related business, this is what we will ask you, even if you are ranking well. You'll get excited to see your site ranking higher, but we want to know if your walk in or phone traffic increases. If not, we will review your website for problems related to the design or structure and make adjustments to your call to action, titles or descriptions.

User engagement and conversions is part of the SEO process, and getting your phone ringing is our goal. Contact us today and get started with our flexible, affordable SEO services. Remember, keeping consistent with your search engine optimization and website maintenance and updates will return the results you need.
Results Driven
SEO Services

Optimized

Original

Organized

Organic

Achieving a high organic page rank is the goal of every small business. Get your business ranking today with more user engagements and conversions.

.
Save Money With Enhanced Marketing Services & SEO

Obtain a variety of SEO Services
Combine our Search Engine Optimization Services with Social Media and Networking
Adjust or add a call to action on your website
Adjust titles and descriptions for an improved click rate on users search results
Full Service Marketing and Design
If you choose direct marketing to enhance your traffic, we've got what you need.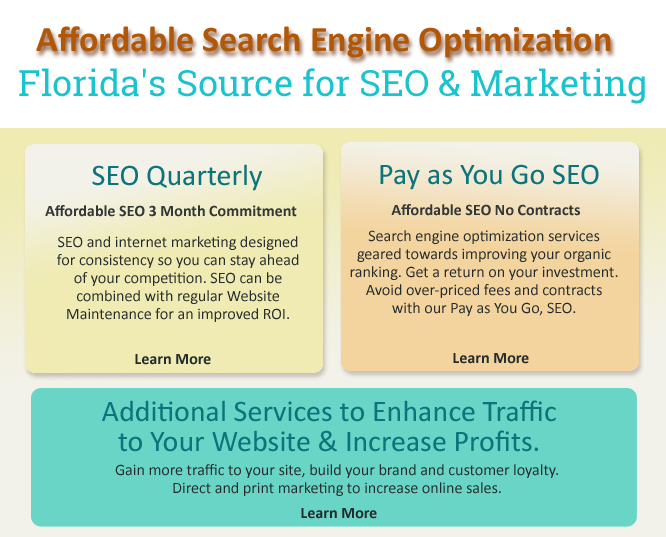 Search Engine Optimization

- Time consuming process of marketing your website to obtain a higher ranking on the search engines with Google, Bing & Yahoo being the key players.



Website Marketing

- Marketing your website should not be limited to search engine optimization. Social media marketing to drive traffic and show relevance is a must, but traditional marketing is also called for. We can do that and you make one call.