Affordable Search Engine Optimization & Marketing, No Contracts, Pay as You Go.





Tampa, Florida
Affordable SEO
PLUS More Marketing!

Tampa & Florida Search Engine Optimization &
Internet Marketing
Search Engine Optimization Services Whenver You Need Them
Although most Tampa, Florida small business owners will need fairly consistent SEO services to help them remain competitive, there are times when it's not in your budget. There are other reasons why you may not need monthly search engine optimization services. For instance, you may be ranking quite nicely for your main keywords, but need occasional services to help you to maintain your position.

Some SEO firms have a tendency to confuse and complicate the goals of small business website marketing. This leads to prolonging the processes that will get the results you need. Straightforward, ethical SEO that relies on one goal, which is improving your organic ranking, cross marketing to increase traffic and a better return on your investment.

At Bay Area Graphics & Marketing, we won't keep you hanging. We concentrate on your particular needs and methodically work towards getting your website ranked organically. Our affordable SEO services can be obtained one time with no contracts or on a quarterly basis, whenever you need them. Many of our clients will receive a round of SEO and that will be enough to sustain or improve their current ranking. Ask us how we differ from other firms. We'll be happy to provide a comparison.

No Long-Term Contracts Required
Quick Results
Ethical SEO Techniques
Link Building
Local Tampa & Florida SEO Firm
Social Media Marketing & Management
Blogging & Guest Blogging
Video Marketing
Copywriting & Copyediting
Analytics & Reporting
Google Authorship & Google+
Additional Marketing Services to
Increase Traffic & Revenue
Work with You to Achieve Results

Phone: (813) 778-9548
Email: info@affordable-seo-tampa.com






More Marketing
More SEO
Less Money.


We Eliminate Your FEAR of SEO

Provide low cost SEO services that are not based on number of keywords or phrases, market competitiveness or size of your business or wallet.
Combine our Search Engine Optimization Services with basic website update services for a better ROI
Charge the same rate for everyone.
No confusing package prices. We give you what YOU need to boost your ranking and enhance traffic at one low rate.
Pay as You Go SEO
Flexible terms, SEO priced right.
Get services as you need them.
No contract SEO services. We do not require contracts but we provide a $30 discount on a quarterly commitment.
White Hat, Ethical SEO
Fresh content and service for humans and search engines, by humans.
We are a local Tampa, Florida SEO, web development and marketing firm. We will NEVER outsource your work to save ourselves money.
Full Service Marketing and Design
If you choose direct marketing to enhance your traffic, we've got what you need.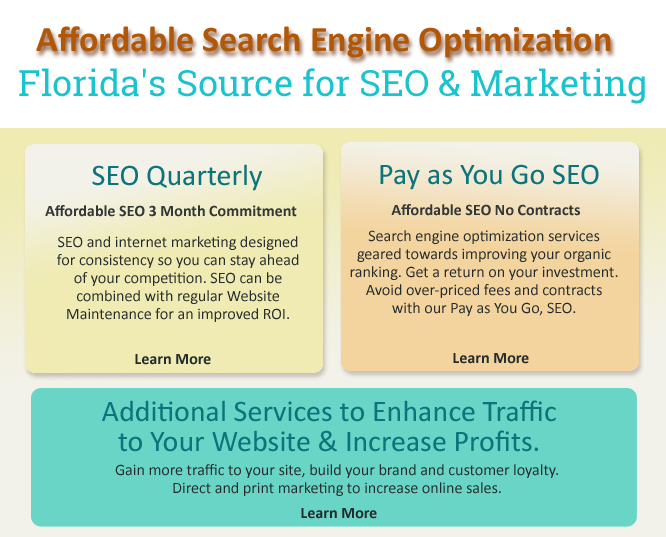 Search Engine Optimization

- Time consuming process of marketing your website to obtain a higher ranking on the search engines with Google, Bing & Yahoo being the key players.



Website Marketing

- Marketing your website should not be limited to search engine optimization. Social media marketing to drive traffic and show relevance is a must, but traditional marketing is also called for. We can do that and you make one call.